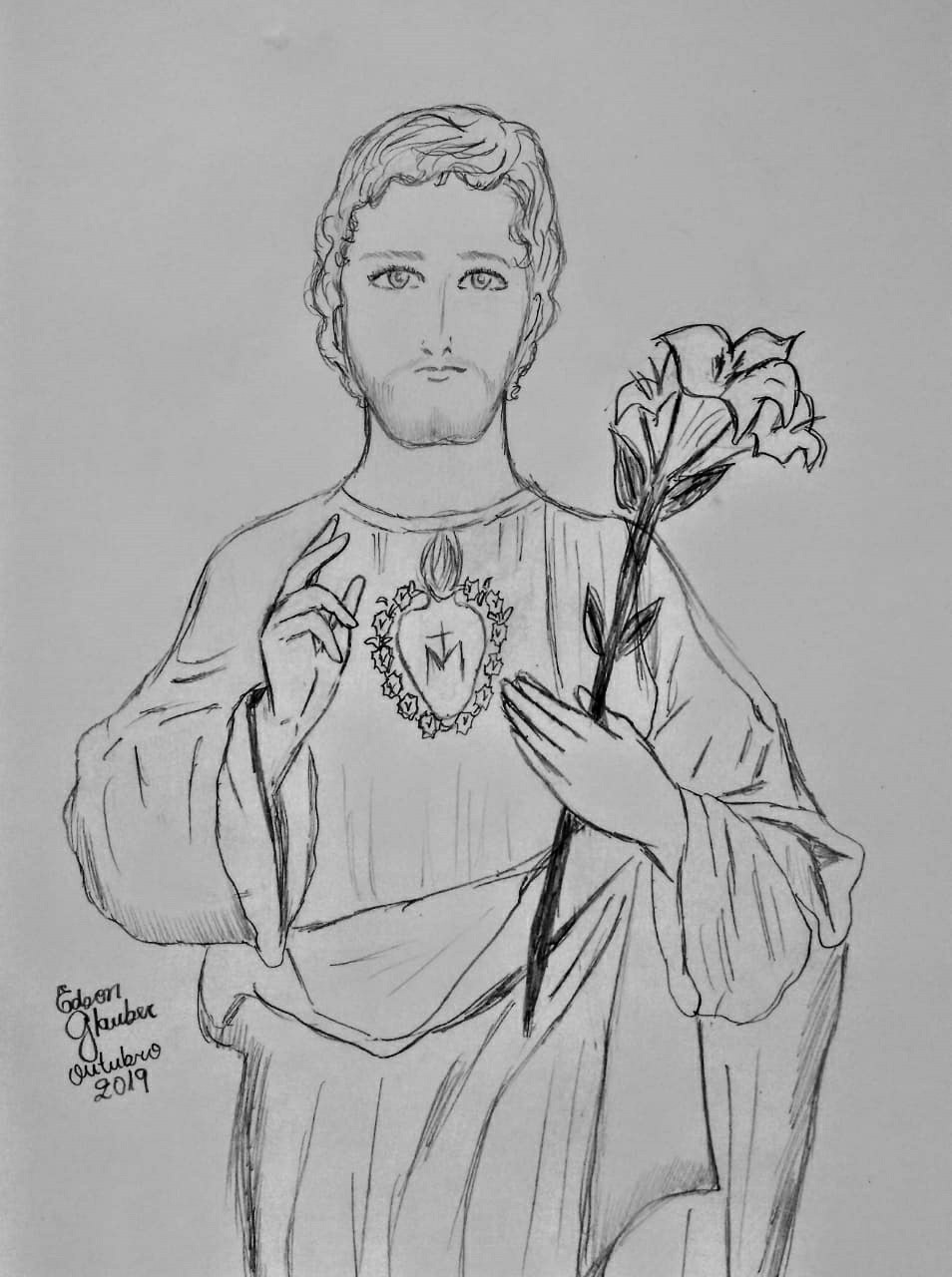 Senhor, tende piedade de nós e do mundo inteiro. Nós vos pedimos pela intercessão do Glorioso São José, Protetor da Santa Igreja e das nossas famílias, de desterrar e fazer desaparecer instantaneamente, num piscar de olhos, este vírus mortal, vindo de Satanás, que ceifa muitas vidas humanas, em muitos lugares do mundo.
Concedei-nos, esta grande graça. Não olheis os nossos pecados, mas a fé que anima a vossa Igreja!…Humilhai Satanás e todo o inferno, exaltando cada vez mais São José e o seu Coração Castíssimo em toda a Igreja e em todo mundo, como nunca aconteceu na história da humanidade. Que todos se lembrem do poder da sua intercessão e do grande amor do seu Coração Castíssimo, que não nos desampara nos perigos e angústias da vida.
Glorioso São José, Poderoso guardião e Pai de Nossa Alma, lembrai-vos que muitos dos vossos devotos rezaram o vosso Sagrado Manto de proteção e o vosso Santo Terço das 7 dores e alegrias e honraram o vosso Coração Castíssimo, fazendo as primeiras quartas-feiras do mês. Por todas as orações que foram dirigidas a vós e ao vosso Coração Castíssimo com tanto amor e fé, mostrai-nos o grande sinal do vosso amor, para com a Santa Igreja e para com o mundo inteiro. Obtende-nos do Deus Altíssimo o perdão dos nossos pecados e a sua misericórdia divina, que foi ultrajada por muitos de nós, filhos e filhas ingratos. Que o Senhor nos perdoe e nos salve.  Fazei agora que nossas orações tenham valor diante do Santo Trono de Deus. Nós vos pedimos com confiança: fazei valer agora as vossas promessas, de que ninguém vos invocaria em vão. Ao vosso Coração Castíssimo nos consagramos e consagramos, neste momento, cada país, cada pessoa contaminada, cada região ferida e atingida por esta ação maligna e mortal.
Ao clamarmos o vosso Coração e Nome Santíssimo, todo o inferno estremece e escapa de pavor. Fazei, ó Glorioso Santo, que este vírus mortal seja esmagado debaixo dos vossos pés santos, castos e virginais, enquanto nós exclamamos com grande fé e confiança em vós:
mmmmmmmmmmmmmmmmmmmmmmmmmmmmmmmmmmmmmmm
PREGHIERA INSEGNATA DAL GLORIOSO SAN GIUSEPPE, PER ORDINE DI GESU', A EDSON GLAUBER, IL 18.03.2020
Signore, abbi pietà di noi e del mondo intero. Ti chiediamo per intercessione del Glorioso San Giuseppe, Protettore della Santa Chiesa e delle nostre famiglie, di allontanare e di far sparire all'istante, in un batter d'occhio, questo virus mortale, venuto da satana, che miete molte vite umane, in molti luoghi del mondo.
Concedici questa grande grazia. Non guardare ai nostri peccati, ma alla fede che anima la tua Chiesa!…Umilia satana e tutto l'inferno, esaltando sempre più San Giuseppe e il suo Cuore Castissimo in tutta la Chiesa e in tutto il mondo, come mai è avvenuto nella storia dell'umanità. Che tutti si ricordino del potere della sua intercessione e del grande amore del suo Cuore Castissimo, che non ci abbandona nei pericoli e nelle angustie della vita.
Glorioso San Giuseppe, Potente Custode e Padre della nostra anima, ricordati che molti dei tuoi devoti hanno pregato il tuo Sacro Manto di protezione e il tuo Santo Rosario dei 7 dolori e gioie e hanno onorato il tuo Cuore Castissimo, facendo i primi Mercoledì del mese. Per tutte le preghiere che sono state rivolte a te e al tuo Cuore Castissimo con tanto amore e fede, mostraci il grande segno del tuo amore, per la Santa Chiesa e per il mondo intero. Ottienici dal Dio Altissimo il perdono dei nostri peccati e la sua divina Misericordia, che è stata oltraggiata da molti di noi, figli e figlie ingrati. Che il Signore ci perdoni e ci salvi. Ora fa' che le nostre preghiere abbiano valore davanti al Santo Trono di Dio.
Noi ti chiediamo con fiducia: fa' valere ora le tue promesse, che nessuno ti invochi invano. Al tuo Cuore Castissimo ci consacriamo e consacriamo, in questo momento, ogni Paese, ogni persona contaminata, ogni Regione ferita e colpita da questa azione maligna e mortale. Nell'invocare il tuo Cuore e il tuo Nome Santissimo, tutto l'inferno trema e fugge per la paura. Fa', o Glorioso Santo, che questo virus mortale sia schiacciato sotto i tuoi piedi santi, casti e verginali, mentre noi esclamiamo con grande fede e fiducia in te:
CUORE CASTISSIMO DI SAN GIUSEPPE, SII IL CUSTODE DELLA NOSTRA FAMIGLIA! AMEN!
Pregate questa preghiera, molte volte, adesso, con fede e pentiti dei vostri peccati e molto più nel giorno di domani, nella Festa di San Giuseppe!
MARCH 18, 2020 – PRAYER TAUGHT BY GLORIOUS ST JOSEPH, AT THE REQUEST OF JESUS TO            
EDSON GLAUBER
Lord, have mercy on us and on the whole world.
We ask you through the intercession of Glorious Saint Joseph, Protector of the Holy Church and of our families, to banish and instantaneously make disappear, in the blink of an eye, this deadly virus that came from satan, that takes many human lives, in many places of the world.
Grant us, this great grace. Do not look at our sins, but at the faith that animates your Church! … Humiliate satan and all hell, exalting more and more St. Joseph and His Most Chaste Heart in the entire Church and in the whole world, as has never occurred in the history of humanity. 
May all remember the power of His intercession and the great love of His Most Chaste Heart, Who does not forsake us in the dangers and distresses of life.
Glorious St. Joseph, Mighty Guardian and Father of our souls, remember that many of Your devotees have prayed your Holy Cloak of protection and Your Holy Chaplet of the 7 Sorrows and Joys and honor Your Most Chaste Heart, making the first Wednesdays of the month. For all the prayers that have been addressed to You and to Your Most Chaste Heart with much love and faith, show us the great sign of Your love, for the Holy Church and for the whole world. Obtain for us, from the Most High God, forgiveness of our sins and His Divine Mercy, which has been offended by many of us ungrateful sons and daughters. May the Lord forgive and save us. 
Now make our prayers count before the Holy Throne of God. We ask You with trust: now make Your promises count, that no one may invoke You in vain.
We consecrate ourselves to Your Most Chaste Heart and we consecrate, at this moment, each country, each person contaminated, each area struck and hit by this evil and deadly act. That all hell tremble and flee in dread at the invocation of Your Heart and Your Most Holy Name, O Glorious Saint. That this deadly virus be crushed under Your holy, chaste and virginal feet, while we exclaim with great faith and trust in You: 
MOST CHASTE HEART OF SAINT JOSEPH BE THE GUARDIAN OF OUR FAMILY! Amen!
Pray this prayer, many times now, with faith and repented of your sins and even more tomorrow, on the Feast of St. Joseph!
MOLITEV, KI JO JE SVETI JOŽEF, PO JEZUSOVEM NAROČILU NAUČIL EDSONA GLAUBER, 18.03.2020
Gospod, imej usmiljenje z nami in s celim svetom. Prosimo te po priprošnji Slavnega Svetega Jožefa, Varuha Svete Cerkve in naših družin, da oddaljiš in storiš da v trenutku izgine, kot bi trenil z očesom, ta smrtonosni virus, ki je prišel od Satana, ki žanje veliko človeških življenj, v mnogih krajih sveta.
Podeli nam to veliko milost. Ne glej na naše grehe ampak vero, ki oživlja tvojo Cerkev!… Ponižaj Satana in ves pekel, vedno bolj povišaj Svetega Jožefa in njegovo Prečisto Srce v vsej Cerkvi in vsemu svetu, kot se še ni zgodilo v zgodovini človeštva. Naj se vsi spomnijo moči njegove priprošnje in velike ljubezni njegovega Prečistega Srca, ki nas ne pušča v nevarnostih in stiskah življenja.
Slavni Sveti Jožef, Mogočni varuh in Oče naše duše, spomni se, da so mnogi tvoji častilci molili tvoj Sveti Plašč varstva in tvoj Rožni venec 7 žalosti in radosti in častili tvoje Prečisto srce na prve srede v mesecu. Zaradi vseh molitev, ki so bile s toliko ljubeznijo in vero namenjene tebi in tvojemu Prečistemu Srcu, nam pokaži veliko znamenje tvoje ljubezni za Sveto Cerkev in za ves svet. Izprosi nam od Najvišjega Boga odpuščanje naših grehov in njegovo božansko Usmiljenje, ki smo ga nehvaležni sinovi in hčere mnogi razžalili. Naj nam Gospod odpusti in nas reši. Sedaj stori, da imajo naše molitve vrednost pred Svetim Božjim Prestolom. Mi te z zaupanjem te prosimo: izpolni sedaj tvoje obljube, da te ne bi nihče klical zaman. Posvetimo se tvojemu Prečistemu Srcu in v tem trenutku posvetimo vsako državo, vsako okuženo osebo, vsako ranjeno in s tem zlobnim in smrtonosnim dejanjem prizadeto regijo.
Ko kličemo tvoje Srce in Najsvetejše ime, ves pekel trepeta in beži od strahu. Stori, o Slavni Svetnik, da se ta smrtonosni virus zdrobi pod tvojimi svetimi, čistimi in deviškimi nogami, ko z veliko vero in zaupanjem kličemo:
PREČISTO SRCE SVETEGA JOŽEFA, BODI VARUH NAŠIH DRUŽIN.
Amén!
Skesajte se svojih grehov in z vero molite večkrat sedaj to molitev, še bolj pa jutri, na praznik Svetega Jožefa.